Brand new for 2018, Bauer has unleased their Supreme 2S Pro Grip Junior Hockey Stick. The entire Supreme stick lineup features key upgrades with ACL technology, DuraFlex Resin and specific weight reductions to provide the best Supreme stick to date.
Appearance wise, Bauer has kept their traditional black and yellow Supreme colorway which gives in a gorgeous look on the ice. At the top hand placement, the 2S Pro grip features subtle black and silver accents that sweep in to a large Supreme word mark outlined in yellow. Just below the bottom hand, there is the new 2S Pro logo in a gold color. At both sides of the bottom of the stick, Bauer finishes off the stick with their classic Bauer logo in a chrome finish.
For the Supreme 2S Pro Grip, Bauer went with their traditional Griptac feel. Griptac provides the best amount of grip so you always have control of the stick, but also easy enough to where you can take one hand on and off with ease. Coupled with Griptac is Bauer's square shaft design. This specific design provides a thicker feel in the players hand for ultimate feel and explosive shots.
Bauer stuck with their Monocomp technology for the Supreme 2S Pro Hockey Stick. This is a molding process that eliminates excess materials and the fusion point of the stick and blade, making the Supreme 2S Pro a true one-piece stick. This design provides a faster and more consistent loading time on your shots.
Throughout the shaft, Bauer went with their TeXtreme carbon fiber, but for this iteration, they added DuraFlex resin on the interior making the stick more durable and lighter, weighing in at 415 grams, five grams lighter than last year's top of the line model. Moving to the blade, Bauer incorporated their Renewcore blade with eLASTech technology, but added an Advanced Carbon Layering. This is a restructure of carbon fiber placement that helps in adding durability and enhancing the puck feel.
The Bauer Supreme 2S Pro Grip Junior Hockey Stick features Bauer's Maximum Power Kick technology, which improves the transfer of energy from the shaft to the blade allowing for the hardest shots possible. This stick is perfect for players who love to take big slap shots from the point and hard one timers.
With Bauer's revamped blade and the addition of the DuraFlex resin, the Supreme 2S Pro is their most advanced stick to date. If you are looking for a stick that gives the hardest shot possible, coupled with a lighter weight, then the Bauer Supreme 2S Pro Grip Junior Hockey Stick is for you!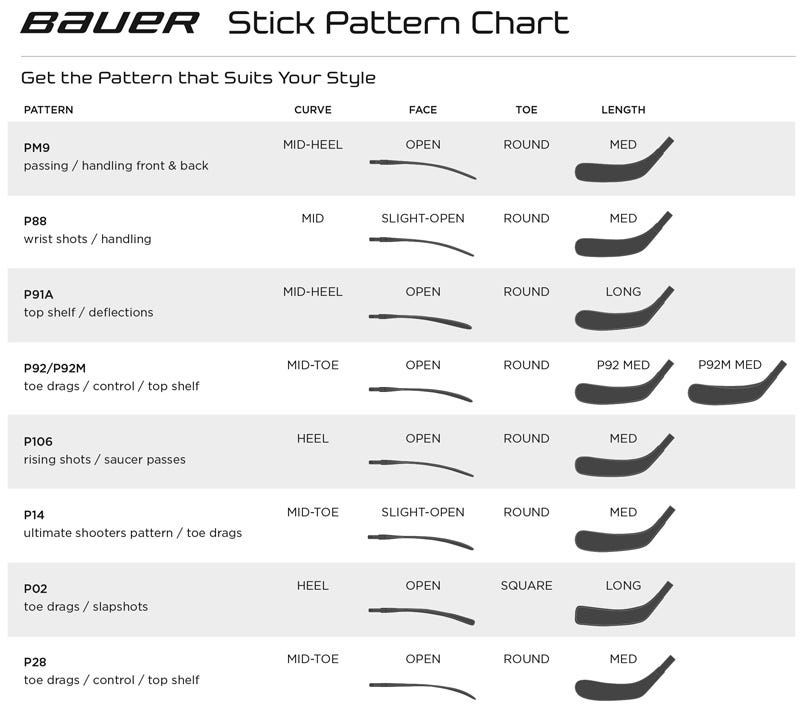 BAUER Hockey, Inc. will provide a one-time replacement of your composite stick/shaft/replacement blade,
IF BROKEN DUE TO A MANUFACTURING DEFECT
within
30 days
from the date of purchase. You must return your stick/shaft/replacement blade to BAUER within 14 days from the date the return was created. You must send, at your expense, the product along with the serial number sticker. Please note that, upon examination of returned stick/shaft/replacement blade, if BAUER Hockey determines that there is a manufacturing defect, they will ship the same or equivalent model stick/shaft/replacement blade to the address you provide. BAUER must have a full mailing address; BAUER cannot ship to P.O. box numbers. Visa, MasterCard or bank statements are not accepted as receipts. Receipts must have the store name and address on them.
The warranty policy does not cover any breakages due to misuse or abuse. This policy does not cover wood sticks/shafts/replacement blades, pro stock sticks, or sticks sold by BAUER Hockey's Team Sales Group. For those products, BAUER will not repair the stick/shaft/replacement blade or refund your money. BAUER will not return ship any broken sticks/shafts/replacement blades.