Brand new for the 2019-2020 season is the Warrior Alpha DX SL Intermediate Hockey Stick from Warrior Hockey. The Alpha DX SL features upgrades made to both the shaft as well as the blade making it one of Warrior's most advanced sticks to date!
Warrior opted for a complete ghosted-out look for their new Alpha DX SL Hockey Stick, consisting of black, silver, and white coloring. At the top third of the stick is where you will find most of the color, a silver color, with a small DX SL logo in the middle. Moving down, a sleek Alpha DX SL logo can be found in silver lettering on top of the carbon fiber type background of the shaft. The bottom third of the stick features a large Warrior logo in black lettering, on top of the carbon fiber look, giving it a clean, high-quality look.
Headlining the technology of the Alpha DX SL Hockey Stick is Warrior's exclusive Sabre Taper Technology. This taper design, starting at the midpoint of the Warrior logo and extending to the top of the blade, combines a low kick-point with a stable and powerful release, making it a great option for players who like to take quick snapshots and heavy slapshots as well!
The Alpha DX SL Hockey Stick consists of Warrior's most advanced version of their True1 Phantom feel! This true one-piece build process creates a balanced and lightweight feel, maximizing control and responsiveness during all types of in-game situations. Helping the Alpha DX SL Hockey Stick weigh in at an incredible 395 grams (senior), this Warrior's lightest and strongest true one-piece build to date.
The material used for the True1 construction is Warrior's new Minimus Carbon 1400 material. This is a flat weave carbon design that is highly lightweight and durable! Furthermore, this material is more dynamic and elastic than ever before, providing players with superior feel in all aspects of a hockey game. Moving to the blade, the Alpha DX SL Hockey Stick uses a FuelCore Blade. This lightweight polymer blade core enhances puck feel and control, helping players get the puck of their blade as quickly as possible! Giving the blade added durability and strength is a composite layering wrapped around an inner core, helping to prevent breakdown of materials in the blade.
On the comfort aspect, the Alpha DX SL Hockey Stick offers an Ergo Shaft Shape. This ergonomic contour shaft shape is designed to fit more comfortably and securely into players' hands. In turn, this design helps enhance control of the stick during stickhandling and shooting. Additionally, a textured zone coupled with a tacky soft grip, known as Apex Grip, has been added to the shaft providing ultimate control and feel.
Thanks to the Sabre Taper and improved shaft material, the Alpha DX SL Hockey Stick is ready to strike anytime, anywhere. Whether you are a shifty forward who takes quick snapshots or a defenseman who takes slapshots from the blue line, the Warrior Alpha DX SL Intermediate Ice Hockey Stick is primed and ready for any in-game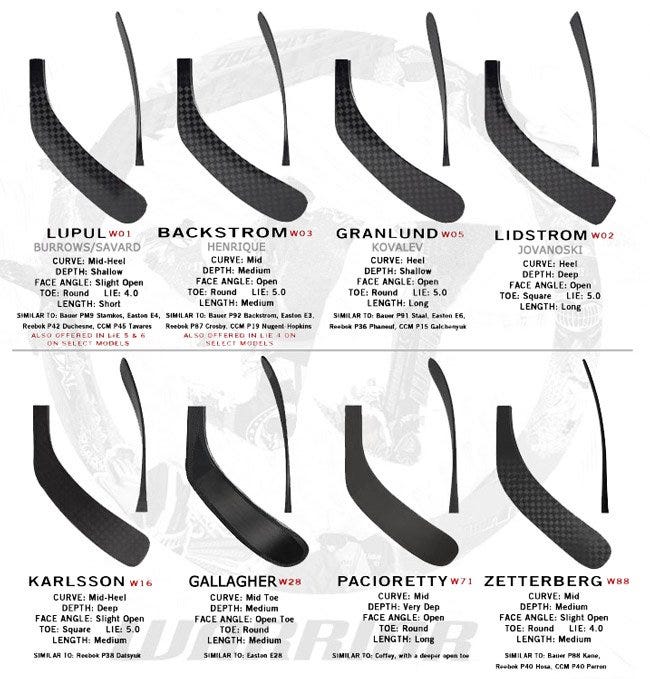 Please read the conditions below for better understanding of our policy:
The product was purchased by an authorized Warrior Hockey dealer
The product is accompanied by receipt (original proof of purchase - no photocopies or hand written receipts will be accepted)
The product broke during normal use as a result of manufacturers defect
The product was not exposed to an open flame and shows no signs of being overheated or altered from an outside source
Warrior Sports will replace the product with the exact product that is defective. If the product is no longer available, we will replace with a grip or non grip stick or upgrade you free of charge
The product was not damaged by contact with a skate, stick, boards, goals, bench, another player, etc.
The product was not a factory second, purchased used, or NHL Pro Stock
The product was not a promotional giveaway, demo stick, or sample product
Small dings and scratches on product may occur during normal use of all products and are not covered under warranty
Warranty restrictions will be determined completely by Warrior Hockey
Warrior, upon receipt and approval of your return, will send a replacement product of the same model. If the style is no longer available, Warrior will replace it with a product of equal or greater value. The ability to upgrade returned products is not offered.